VDO REDI-Sensor
Pre-programmed TPMS sensors 'REDI' to install straight from the box.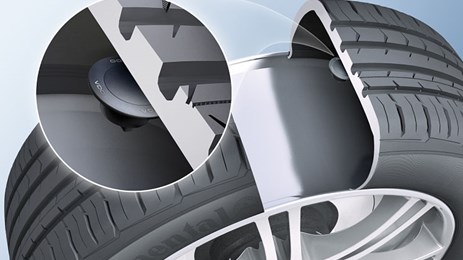 Multi-brand TPMS sensors
Broad coverage with just a few sensor variants
Pre-programmed sensors - no more wasting time and effort
Easy & efficient to install - no programming or service kits required
Simply glue the sensor to the inner surface of the tyre
Fewer parts and low storage costs
Protected from mechanical damage thanks to innovative position inside the tyre
OE quality
Overview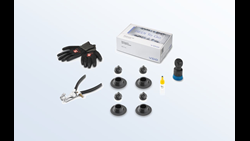 With more and more vehicles now equipped with Tyre Pressure Monitoring Systems (TPMS) due to the latest legislation, this will certainly shake up the work load for workshop repair and tyre service businesses.
Innovation is what puts you ahead. This is why we've released a new TPM sensor that's quite unlike any other on the market.
The VDO REDI-Sensor is a multi-brand sensor that is programmed with multiple protocols. This means that with just a few sensor variants, you will be able to equip a large number of new vehicles on the European market.
Moreover, it means that garages and tyre service centers no longer have any additional sensor programming work to do. Our sensor is simply affixed to the inner surface of the tyre and, unlike other solutions, can immediately be trained to the vehicle using our service tools Autodiagnos Check TPMS and VDO TPMS Pro.
Coverage
With just 4 sensor variants, you can cover most vehicle models on the European market, saving you storage costs.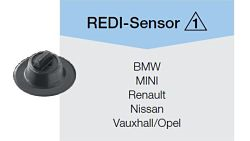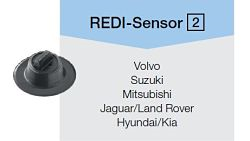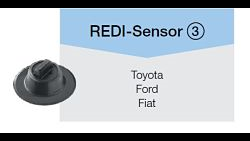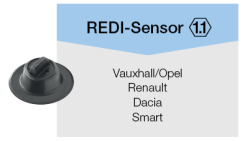 Installing the REDI-Sensor
Unlike conventional TPM sensors, the VDO REDI-Sensor is glued to the inner surface of the tyre for better protection from mechanical damage, installation in considerably easier and the task of preparing a complete set of wheelsi is simplified.
Step 1:
Clean the area on the inside of the tyre where the sensor is going to be.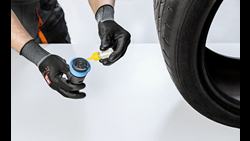 Step 2:
2.1. Use the spreader tool to help place the sensor into the rubber container.
2.2. Place both of them as an assembly into the hand press tool.  
2.3. Clean the underside of the rubber container and apply the glue.
Step 3:
3.1. Place the hand press tool onto the tyre with the rubber case facing down
3.2. Apply pressure for approximately 20 seconds.
Step 4:
Like any other TPM sensor, the REDI-Sensor then has to be learnt to the vehicle to confirm complete system functionality between the vehicle and sensor.
VDO has a range of TPMS diagnostic tools for this process.
View VDO TPMS Diagnostics Tools
If re-work or re-positioning is required, use the spreader tool to take out the sensor and put a new one in.
Video Demonstration
Contact
Tel: 0121 326 1200