What is TPMS?
More safety, more comfort and less fuel consumption.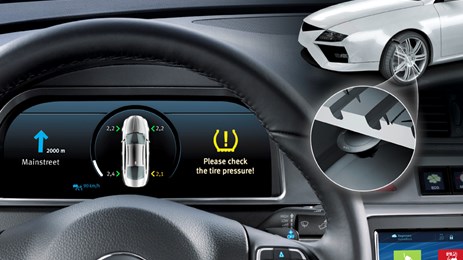 TPMS stands for Tyre Pressure Monitoring System. It is a highly effective security system that alerts the driver by displaying a warning sign on the dash of the vehicle when a tyre pressure falls 20% below the normal value. 
Innovative advantages:
Increases safety
Lowers fuel consumption
Reduces tyre wear
Improves braking and stopping distance
Improves handling and reliability
Indirect vs Direct TPMS
Indirect systems:
These systems evaluate signals from a vehicle's anti-lock brake system (ABS) to compare the speed of the wheels. If the system detects a difference in wheel speeds and this is not attributable to the driving situation, a warning lamp on the instrument cluster will illuminate.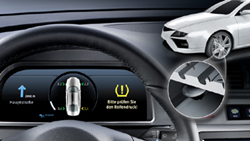 Direct systems:
In a direct system each wheel/tyre is equipped with a sensor that directly measures the tyre pressure and depending on the vehicle, measure temperature. This information is transmitted wirelessly to a control unit which analyses the data and displays a warning on the instrument cluster if low pressure is detected.
Direct systems are faster and provide more precise
Direct systems have the potential to display the pressure and temperature of each tyre individually, even when the vehicle is stationary
Direct systems do not have to be recalibrated if the tyre pressure changes due to an increase in load or a tyre change (however direct systems do require a sensor/vehicle relearn when moving or replacing sensors – this may be automatic depending on the vehicle)
Huge Profit Opportunities thanks to EU demand
Since November 2014, TPMS became a mandatory fitment on all new M1-class vehicles (cars and motor homes). In January 2015, TPMS became part of the annual MOT, making a faulty TPMS or a vehicle displaying its TPMS dashboard light an automatic fail.
With millions of vehicles now fitted with a TPMS, this has created new business opportunities for dealers, garages and tyre service businesses. The demand to replace and repair TPMS sensors and number of MOT failures is rising at a significant rate, 
As a brand of leading international tyre specialist, Continental, VDO provides you with everything you require for all service activities in the tyre pressure monitoring field, such as:
Contact
Tel: 0121 326 1200
Email: uk@vdo.com