Autodiagnos Check
The Plug & Play Autodiagnos Check tool simplifies everyday service activities across all manufacturers.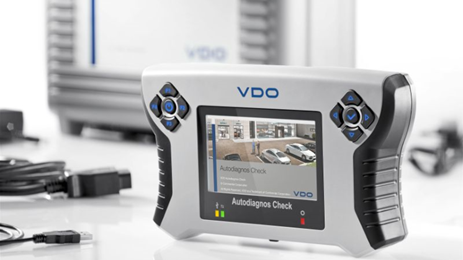 Plug & Select: access to all service activities required from start-up
Plug & Identify: Identifies car model, year and controls automatically
Plug & Fix: step-by-step instructions guides you through the service process
User-friendly with no training required
OE data makes you see codes like a dealer
Covers all major car and van manufacturers
Quick boot-up time
One year of FREE software updates (extend with Update Plus)
News
Testimonials
"I am delighted with the Autodiagnos Check tool from VDO. It's simple, quick and easy to use. As a BMW, Mercedes and Mini specialist, I am impressed with the auto detect function and OE data."
- Brian Dewart at BD Autos
"I am impressed with how simple and fast the Autodiagnos Check tool really is, as well as the vehicle coverage and functions it supports. I now use this tool on a daily basis for day to day checks on vehicles coming through the workshop."
- Robert Newall at RJN Automotive Ltd
Videos
Product Code
A2C14146800