TPMS Pro
The all-in-one TPMS tool.
The TPMS Pro is quick, intelligent, but extremely user-friendly. In addition to activating and programming TPMS sensors, newly programmed sensors can be loaded onto the vehicle's ECU via the OBD2 cable to begin the relearning process and read and delete any errors.
It has a high-res 4.3" screen with a rubber case, icon navigation and step-by-step guides to operate the tool easily and efficiently.
The docking station with an integrated printer option is an ideal solution for mobile tyre fitters to print data for your customer whilst onsite for that professional touch. 
Thanks to monthly updates, your TPMS Pro will remain completely up-to-date with the latest sensor and vehicle coverage.
Order numbers: 
TPMS Pro - A2C59506457
TPMS Pro Printer - A2C59506643
Features & Benefits
Features:
Activates and displays TPMS sensor data e.g. tyre pressure, tyre temperature, sensor ID & battery status
Decodes TPMS error codes (DTC codes)
Programs (copy or create) all universal TPMS sensors
Reset TPMS via OBDII 
Displays OBDII port location 
Stores up to 65,000 jobs
Easy icon navigation with step-by-step training
Docking station & printer (TPMS Pro Print)
Monthly updates for 100% vehicle coverage 
Includes:
Handheld device
OBDII cable
USB data cable
Charger
Docking station (TPMS Pro Print version only)
Printer (TPMS Pro Print version only)
Quickstart Guide
UK adapter for charger
Carry case
User Manual & CD
1 year warranty
1 year of software subscription (option extend with Update Plus subscription)
Software Subscription (Update Plus)
Keep your tool completely up-to-date!
Your TPMS Pro includes one year of software subscription. You will receive monthly updates, such as new functions, bug fixes, 100% vehicle coverage and TPMS sensor coverage.
To setup your tool, simply follow the three instructions below:
1. Turn ON your tool and connect it to your PC
2. Download and install the WebTPM PC software
3. Follow the instructions on your PC 
After one year, a software license Update Plus must be purchased to continue to receive the latest vehicle and sensor coverage.
Software Release DV1-32
The latest software (DV1-32) was released in January 2020. This release includes brand new vehicle models, updated OE sensor information, relearn information, new makes and updated aftermarket sensor coverage. 
Brand new models: Alpina Automobiles B3, Aston Marti DBX, Radpide AMR, Radpide E, Audi SQ8, e-tron, Sportback, BAIC BJ40, Bentley Motors Flying Spur 2, BMW 2 Gran Coupe, X1 xDrive25e, X3 xDrive30e, X6 M50i, X7 M50i, Cadillac XT4, Chevrolet Corvette (C8), DFSK C32/C35, Glory 580, ix5, Ford Explorer 5/6, Kuga 3 SUV, Mustang 5, Great Wall Hover H6 2, M4, Honda e, Indian Motorcycle All Models, Iveco Daily, Land Rover Defender, Discovery Sport 2, Mazda CX-30, McLaren GT, Speedtail, Mercedes-AMG A Klasse, Mercedes-Benz C Shooting Brake, E Convertible, MG Motor MG ZS EV, Nissan Juke 2, OPC Line Corsa F, Peugeot Partner 3, Seat Mii electric, SsangYong Motor Kyron, Volkswagen Golf 8, ID 3.
Updated OE sensor and relearn information for the following brands: Audi A6-S6 Allroad Quattro, A6-S6 Avant, Citroen C4 2, C-ZERO, Jumper/Relay, Dacia Sandero, Sandero Stepway, Honda Motorcycle Gold Wing, Hyundai H-1, H-1/H-300/i800 Van, Infinity Q30, QX30, Jaguar XE, Jeep Cherokee (KL), Renegade, Kia Cee'd (CD), Cee'd (CD) SW, ProCeed (CD), Rio (YB), Sorento (UM), Lada Vesta, Land Rover Range Rover (L405), Range Rover Vogue, Range Rover Vogue 2, Lexus UX250h/300 SUV, Lotus Cars Elise, Evora, Exige, Maserati Levante SUV, Mazda Mazda 2 (DJ), McLaren 600LT, 600LT Spider, Senna, Senna GTR, Mercedes-Benz AMT GT Coupe, AMG GT 4-Turer, A Klasse (176), CLS Coupe (218), Shooting Brake, GLA Klasse, GLC Klasse, E Klasse (212), Couple (207), EQC Klasse, GL SUV (166), GLA SUV, GLE SUV (166), Coupe (C292), GLS SUV (X166), SL Roadster (231), SL Roadster (231), MG Motor MG ZS, Mitsubishi Motors Attrage, I-MEV, L200 Lancer, Pajero/Montero, Pajero Sport, Shogun, Shogun Sport, Space Star/Mirage, Opel Astra K, Astra Sports Tourer, Corsa D, Meriva, Insignia Country Tourer, Insignia Grand Sport, Insignia GSI, Insignia Sport Tourer, OPC Line Astra K, Insignia, Peugeot 308 cc, iOn, Renault Clio Estate, Espace 5, ZOE, Rolls Royce Ghost, Saab 9-5, Vauxhall Astra Mk7, Insignia Grand Sport, Meriva, Volkswagen California, Caravelle, Multivan.
New Aftermarket sensors and updated coverage for: ALCAR by Schrader, Alligator Sens-it, BH SENS IntelliSens ECS/UVS, Hamaton EU-Pro, T-pro, Hybrid 1.5, Hybrid 3.5, ltalsensor 3.0evo, EZProit, KW Sensor GEN1, PRO, MAX T.O.T.A.L Gen1, Gen2, Select Sensor, Mobiletron Combi/Universal EU, ProSens, Schrader EZ-Sensor, Italsensor, Unisens by repstar.
Downloads
Accessories

Tyre Tread Depth Measuring Device
The optional tyre tread depth gauge performs a full tyre and TPMS sensor and detects worn or damaged tyres. 
Enables fast vehicle safety testing
Provides an additional option for maintenance offers and tyre sales
Ideal for tyre management: records tyre condition and tread depth before and after storage
 Order number: 2910002058200
TPMS Go vs TPMS Pro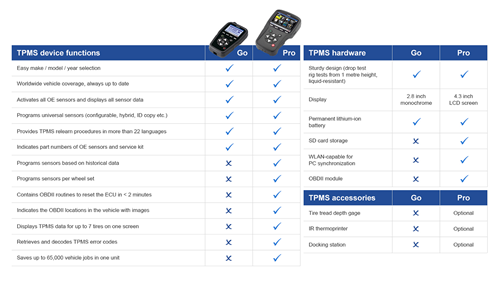 FAQs
Use our FAQ guide to find answers to your questions about TPMS (Tyre Pressure Monitoring Systems) and TPMS service devices.
News
Contact us