Tyre tread depth measuring device
This accessory instantly detects worn or damaged tyres.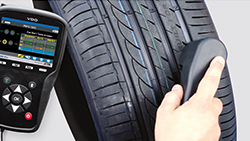 The VDO tyre tread depth gauge is available as an optional accessory for the VDO TPMS Pro. When it is connected to the device, the user can perform a full tyre and sensor check of the TPMS as part of routine maintenance. The VDO tire tread depth gage detects worn or damaged tires with just one hand movement.
Enables fast vehicle safety testing
Provides an additional option for maintenance offers and tyre sales
Ideal for tire management: records tire condition and tread depth before and after storage
Order number: 2910002058200
Downloads: Data sheet