VDO TPMS Pro is named Product of the Year
A VDO product wins the industry prize for the second year in a row.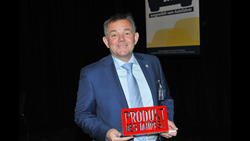 The independent garages have chosen their new favourite. TPMS Pro, the practical service device offered by Continental under its VDO brand, has been named Product of the Year for 2015.
The device enables garages to perform quick, reliable service jobs of all kinds involving tyre pressure monitoring sensors. Votes were cast by 13,000 independent vehicle workshops and readers of Germany's Freie Werkstatt trade magasine, which holds the annual
competition. "We're delighted by this honor and send our special thanks to our partner garages," said Bert C. Lembens, Head of Sales Service at Continental IAM, when he accepted the award at an industry forum in Dortmund in mid-January. 

Quick and easy readout, checking and programming
Garages can use TPMS Pro to optimize their TPMS services. This smart tool can read out tire pressure monitoring sensors remotely, irrespective of whether they are the originally installed devices or have since been replaced. The make of sensor is also unimportant. Key information like tire pressure, temperature, battery status and sensor ID can be determined in a matter of moments. In addition, the device can be used to program aftermarket sensors of various manufacturers. This step is not necessary for preprogrammed products like the VDO REDI-Sensor. Lembens sums up the advantages: "We've been manufacturing tire pressure monitoring systems in large volumes for many
years and have OEM know-how. We want to pass this on to our aftermarket customers in the form of a suitable solution. It allows our partner garages to set themselves apart from the competition through excellent service and take full advantage of the TPMS sales potential."
Adapted to the needs of workshop mechanics
VDO TPMS Pro possesses an OBD II interface which allows tyre pressure monitoring sensors to relearn when connected with the vehicle's electronic system. The error memory can be read out and deleted. The practical tool also includes a comprehensive database with information on tire pressure monitoring sensors, such as spare part numbers and torques. This considerably simplifies work for mechanics. The device has a 4.3-inch color display with easy-to-understand icons for navigation.