VDO TPMS Go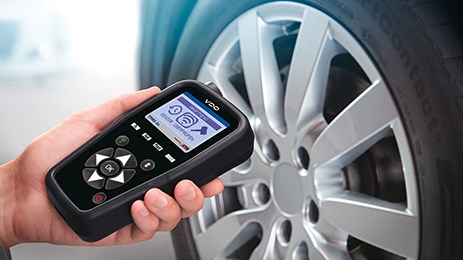 Activates and reads out sensors for tire pressure monitoring systems (TPMS) of all vehicle brands worldwide
Programs all leading universal aftermarket TPMS sensors
Displays all sensor data within a few moments: ID, tire pressure, tire temperature, battery status, etc.
TPMS spare part number search (OE and aftermarket)
2 years Update Plus included (free software and database updates)
Intro
With its robust housing and long-life, rechargeable batteries, the VDO TPMS Go is ideally suited for everyday workshop tasks and routine jobs in service operations. Replacement sensors can be programmed directly, wheel by wheel. For the relearning procedure, use the VDO TPMS Go together with a diagnostic scanning tool or follow the TPMS relearning procedure for automatic or manual relearning in accordance with the vehicle user manual.
What's included?
VDO TPMS Go handheld device
USB data cable
Charger
USB stick with WebTPM PC software, driver programs and operating instructions
Order number: 2910002037400
Software updates/registration
1. Download and installation of the VDO WebTPM software
Download
 2. Registration and software update
After installation, you will be prompted to enter your contact information.
Your VDO TPMS Go includes two years of the software updates after purchase. After that, you can purchase annual updates by subscription with our Update Plus service.
If you do not wish to receive another update after the end of the update period, you can continue to use the version you have on your service device.
Downloads
Device comparison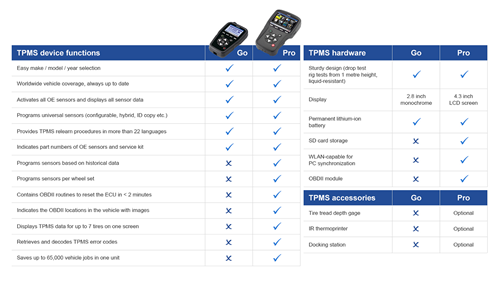 FAQ
Use our FAQ guide to get answers to your questions about VDO TPMS (Tire Pressure Monitoring Systems) and TPMS service devices. 
Contact us