TPMS Go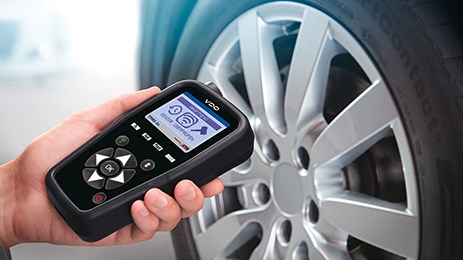 The 'go-to' TPMS tool for beginners.
The TPMS Go is a robust and user-friendly tool for any workshop wanting to step into the world of TPMS. 
This tool will activate and display the sensor data of each wheel in seconds, such as the sensor ID, tyre pressure, tyre temperature and battery status of the sensor.
This handy tool will also program any leading aftermarket sensor to replace a faulty sensor. Thanks to monthly updates, your TPMS Go will remain completely up-to-date with the latest sensor and vehicle coverage, so you will never have to turn business away.
Order number: 2910002037400
Features & Benefits
Highlights:
Activates and reads TPMS sensor data 
100% vehicle coverage
Programs all leading aftermarket TPMS sensors
Provides relearn procedures
Indicates sensor and service kit part numbers (OE and aftermarket)
Always up-to-date thanks to frequent software updates (when in subscription)
Includes:
Handheld device
USB data cable
Charger
USB stick with WebTPM PC software, driver programs and operating instructions
2 years of software subscription (option to extend with Update Plus subscription)
Software Updates & Subscription
Keep your tool completely up-to-date!
Your TPMS Go includes two years of software subscription. You will receive monthly updates, such as new functions, bug fixes, 100% vehicle coverage and TPMS sensor coverage.
To setup your tool, simply follow the three instructions below:
1. Turn ON your tool and connect it to your PC
2. Download and install the WebTPM PC software
3. Follow the instructions on your PC 
After two years, a software license Update Plus must be purchased to continue to receive the latest vehicle and sensor coverage.   
Latest Software Release: HV1-19 
The latest software release (HV1-19) released in September 2019 includes new and updated vehicle models and new Aftermarket sensor brands, as well as the possibility to program multiple sensors simultaneously. 
New car models from: Audi, BMW, Ferrari, Ford, Kia, Mercedes-Benz, Opel, Porsche, Renault, Seat, Skoda and Vauxhall.
Updated OE sensor and relearn information for the following brands: Alpina Automobiles, Aston Martin, Audi, BMW, BMW Motorcycle, Ford, Honda, Hyundai, Infiniti, Jeep, Kia, Lada, Maserati, Mercedes-AMG, Mercedes-Benz, Mercedes-Maybach, Nissan, Renault, SsangYong Motor.
New Aftermarket sensors and updated coverage for: ALCAR by Schrader, Alligator Sens-it, BH SENS IntelliSens (Huf), Hamaton EU-Pro, T-pro, Hybrid, KW Sensor, Italmatic ltalsensor, MAX T.O.T.A.L Gen II Sensor, Mobiletron Combi & Universal, ONE-SENSOR, ORANGE DirectFit EU/Universal EU, ProSens, Schrader EZ-Sensor, Unisens by repstar.
Downloads
Further Information:
Manual
Software:
TPMS Go vs TPMS Pro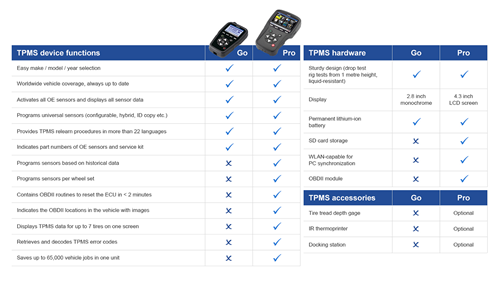 Support & FAQs
Find answers to our frequently asked questions about TPMS and our TPMS tools here.
News
Contact us